Social Sustainability
Supporting the community
APC is involved in our local, regional, national and international communities through a range of community involvement and charitable contributions, as well as key initiatives that help improve overall quality of life for our employees and our neighbors.
---
SAFETY

APC is committed to providing a safe working environment for our employees, with zero preventable injuries. And we're dedicated to continually striving to reduce the environmental impact of our operations, partnering with our customers and vendors on solutions that will reduce the overall environmental impact of our products.
American Packaging Corporation
Safety is a top priority in everything we do
HEALTH & WELL-BEING
APC offers a range of competitive benefits that are continually benchmarked against the industry and markets we are in. These include health, pharmacy, dental and vision insurance, an Employee Assistance Program (EAP), work-site wellness activities, flu shots, learning opportunities and programs, communication materials and incentives. We believe it's important that employees and their families have the opportunity to be informed about and involved in their health and well-being choices.
---
Training & Developing Talent for Our Industry
APC believes it's a top priority to attract and recruit emerging talent that's required to grow our business organically. We have a commitment to developing our internal talent, allowing our employees to grow and expand their careers with us. The mission of the Training team is to provide innovative training and development through continuously enhanced programs that empower our APC team members to grow with the vision and goals established for the continued success of our business.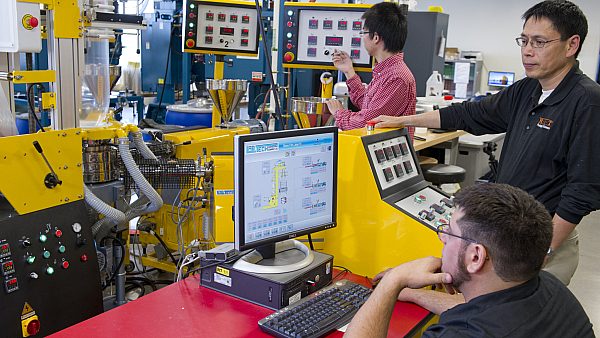 TRAINING & DEVELOPMENT

We have training and development programs in the areas of safety, leadership and technical skill building, and we'll continue to build on these to ensure we're
supporting the needs of our employees. We believe that employee engagement in and commitment to a culture of continuous improvement and learning starts
with our commitment to their growth and development. Following are a few examples of our current learning and development programs.
Leadership Development - Both new and experienced leaders at the company are given the opportunity to participate in a variety of leadership development opportunities. These programs are focused on building and reinforcing skills and behaviors that APC believes are important. The company provides these trainings through their internal teams and also partners with several outside experts to ensure that our managers have access to the latest methods, techniques and thought leadership. This includes programs focused on leading and developing people and well as programs focused on leading and developing the business and includes topics such as leading with motivational intelligence, communication, and team execution.

Career Paths - APC's goal is to provide all employees with a career at the company that is fulfilling and offers the opportunity for growth and advancement. The company has created job qualification standards for all production level positions that communicate the expectations of each role and each level. The company also
created a career path map that shows how an entry level production employee can progress through roles with an increasing level of skill and pay as positions become available. We want to provide the transparency and details that employees can utilize to define their paths career growth.
Established Partnerships with Local Technical Schools - We have several programs in place across our six locations where we've partnered with local schools to provide apprentice opportunities and job skills training. These programs enhance the opportunities of our operations employees for future career mobility within APC, as well as provide employment in our local communities for individuals who are looking to build a career in manufacturing.
Diversity and Inclusion - We believe it is essential to foster an atmosphere where all employees feel comfortable working and interacting with each other and their management teams. Our diversity and inclusion training aims to bring awareness to the importance of a diverse and inclusive workplace, as well as the benefits of working with a team of individuals with unique perspectives and experiences. Our goal is to create a culture where thoughts can be shared and ideas can be implemented to benefit employees, the company and our customers.
New Supervisor Skills - The movement from an individual contributor role to a people manager role can be one of the hardest transitions in an employee's career and we aim to provide the necessary training and support that new supervisors and managers need to accomplish this successfully.

---
DIVERSITY & HUMAN RIGHTS
APC complies with all Equal Employment Opportunity laws.
We have a process to fully investigate any complaints regarding discrimination or misconduct of any kind, with no tolerance for retaliation. We believe in creating an atmosphere where employees can feel comfortable raising concerns without fear of retaliation, believing in the company's commitment to addressing those concerns.
Diversity of thought, perspectives, ideas and experiences is an important part of being able to be responsive to our customers' (and their customers') needs.
We actively partner with community groups and agencies that support career opportunities for veterans and minority candidates.
Hiring and promotion decisions are made based on an assessment of competencies, skill sets, contributions relevant to the open position and supporting the direction of company goals.
We have a defined code of conduct, discussed with each employee, which emphasizes the importance of a positive culture, ethical behaviors, and the expectations of our employees when interacting with each other, customers and vendors. We are committed to working with the highest standards of honesty and integrity.
---
EMPLOYEE ENGAGEMENT
Our employees are the key to our success, and their engagement has a direct impact on our ability to successfully meet our commitments to our customers. We believe it's important to recognize and reward our employees who have served our company over time through formal years-of-service awards. We also encourage our leadership team to connect with employees at all levels on a regular basis by spending time on the floor, engaging in bi-weekly safety discussions and holding periodic employee focus groups, all in an attempt to gather and respond to feedback directly from employees. In addition, we survey our employees to solicit their thoughts and ideas as we define policies and to identify opportunities to improve our operations, performance and culture. APC also takes a holistic view of our commitment to our employees by focusing on their well-being not only at work, but also outside of work. We offer extremely competitive benefit plans with a focus on wellness initiatives, targeted at helping employees with their overall health, wellness and financial security through access to services and information. We intend to continue to focus on ways to increase the engagement and overall well-being of our employees.
---
---
PHILANTHROPIC ACTIVITIES
In addition, APC is adopting local charitable organizations on an annual basis to provide support for organizations that our meaningful to our employees and the communities in which our sites are based. We support a range of national and international charitable organizations. We believe it's our responsibility to give back as much as possible to the local and regional communities that support us and each of our valued team members. APC is a proud supporter of The Hole in the Wall Gang Camp and its mission to provide "a different kind of healing" for sick children and their families.